"
You have to learn to love the small things in life, like a hot bath. You have to love the small things, when you've nothing else.
"
The Morning Ritual
is the eigth chapter in
The Blade Itself
.
Chapter Summary
Edit
Amid a wishful dream, where Sand dan Glokta kills Jezal in front of Ardee, the inquisitor awakes in horrible pain. His crippled body has twisted on itself over the night, and he's fouled the bed. The Gurkish stole more than his strength with their torture, they stole his dignity. Helped to the bath by his old manservant, Glokta readies himself to go before Arch Lector Sult.
At the Arch Lector's office, Glokta unleashes some vitriol on the Arch Lector's pompous secretary. Quickly ushered into Sult's presence, Glokta finds him meeting with sour Surveyor General Halleck. The reason for the forced confession of Sepp dan Teufel is made clear. With Teufel disgraced, the Arch Lector plans to make Halleck the new Lord Chancellor. Teufel was supported by his arch rival on the Closed Council, Marovia.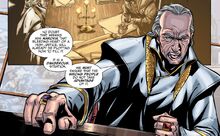 After Halleck leaves, Sult discusses the state of The Union. In the north, war is brewing as Bethod threatens Angland. In the south, the Gurkish has a new and vigorous Emperor, Uthman-ul-Dosht, who threatens Dagoska. At home, the Closed Council fights itself to fill the void created by the death of powerful Lord Chancellor Feekt. All the while, the nobles in the Open Council threaten the supremacy of the Closed Council, and the merchants threaten the dominance of the nobles.1 He wants Glokta to help him consolidate power as Inquisitor Exempt reporting exclusively to him. He is assigned the task of destroying the Guild of Mercers, to weaken the nobles, and take the Mercers resources as his own.
Characters
Edit
Locations and Terms
Edit
References
Edit
We are in a time of change in Adua. The Arch Lector wants to cement his own power, and preserve as much of the old order as he can.