"
He seemed more wet than wise, and certainly didn't look powerful beyond the dreams of men.
"
The Wide and Barren North
is the sixth chapter in
The Blade Itself
.
Chapter Summary
Edit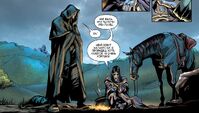 Logen Ninefingers is camped on the dreary moors, where the Spirits indicated the Magus would find him. Having left the forested areas where food was plentiful, he bemoans his wretched situation. However, soon he's found by Malacus Quai, an awkward, gaunt, sickly, and unimpressive-looking young man with no staff.1 He explains that he is the apprentice of Bayaz, First of the Magi. Malacus has been sent to find Logen and bring him to the Great Northern Library. Agreeing to accompany Malacus, Logen sucks up his campfire's Spirit, holding it under his tongue to light another fire later.
As the pair journey south, Malacus begins to exhibit sickness brought on by his difficult journey. Malacus relates some of his personal history, he is from The Old Empire to the west, and was the apprentice of the Magus Zacharus, the fifth of Juvens twelve apprentices, before joining Bayaz to earn his staff. Suddenly, three bandits confront them. Logen springs into reluctant action and kills the trio, using the fire spirit under his tongue to light one on fire, and also a fourth hidden assailant. Surprised to have survived, Logen's only interest after the fight is taking the better boots from one of his antagonists.
Characters
Edit
Locations and Terms
Edit
References
Edit
With Quai there some classic examples of Abercrombie upsetting tropes, and then reconfirming them like "Shouldn't you have a staff?"